IDERA GROUP-WIDE COOKIE POLICY
Last Updated: May 16, 2022
Effective Date: May 30, 2023
Idera, Inc., together with its Affiliates (as listed in our Privacy Notice at https://www.ideracorp.com/Legal/PrivacyShield) (collectively, the "Company", "we", "us", "our"), uses cookies on our websites (the "Websites"), to identify the users of our Websites, to remember user preferences, as well as to ensure that the users of our Websites get the best possible experience. This policy provides detailed information about how and when we use cookies on our Website.
What is a cookie?
Cookies are small text files sent by us to your computer, which enables the Company features and functionality. When you visit our Website, we ask whether we can store cookies on your device in order to remember information about you, such as your language preference or login information. Those cookies are set by us and called first-party cookies. We also use third-party cookies – which are cookies from a domain different from the domain of the Website you are visiting – for our advertising and marketing efforts. Session-based cookies last only while your browser is open and are automatically deleted when you close your browser. Persistent cookies last until you or your browser delete them or until they expire. When you use the Company's service, we and our partners may send one or more such cookies to your computer and store them in your web browser.
What type of Cookies do we use on the Company Website?
Some cookies are associated with your account and personal information in order to remember that you are logged in and which workspaces you are logged into. Other cookies are not tied to your account but are unique and allow us to carry out analytics and customization, among other similar things.
Cookies can be used to recognize you when you visit our Websites or use our services, remember your preferences, and give you a personalized experience that's consistent with your desired settings.
Cookie List
Here are categories of cookies that we use to support our Websites:
Strictly Necessary Cookies
These cookies are necessary for the Website to function and cannot be switched off in our systems. They are usually only set in response to actions made by you which amount to a request for services, such as setting your privacy preferences, logging in or filling in forms. You can set your browser to block or alert you about these cookies, but some parts of the site will not then work. These cookies do not store any personally identifiable information.
Performance Cookies
These cookies allow us to count visits and traffic sources so we can measure and improve the performance of our Website. They help us to know which pages are the most and least popular and see how visitors move around the Website. All information these cookies collect is aggregated and therefore anonymous. If you do not allow these cookies we will not know when you have visited our Website, and will not be able to monitor the Website performance.
Functional Cookies
These cookies enable the Website to provide enhanced functionality and personalization. They may be set by us or by third party providers whose services we have added to our pages. If you do not allow these cookies then some or all of these services may not function properly.
Advertising Cookies
These cookies may be set through our Website by our advertising partners. They may be used by those companies to build a profile of your interests and show you relevant adverts on other sites. They do not store directly personal information but are based on uniquely identifying your browser and internet device. If you do not allow these cookies, you will experience less targeted advertising.
Social Media Cookies
These cookies are set by a range of social media services that we have added to the Website to enable you to share our content with your friends and networks. They are capable of tracking your browser across other sites and building up a profile of your interests. This may impact the content and messages you see on other websites you visit. If you do not allow these cookies you may not be able to use or see these sharing tools. Please note that this type of cookie may not be available for all entities of the Company.
We may also implement third party content that allows the third-party content provider to read and write cookies to your browser in connection with your viewing of the third-party content on the service or may otherwise allow such third party to collect information about you. This information is collected directly by the third party, and the Company does not participate in that data collection or transmission.
For more information about the specific cookies used by each of our Companies, please click on the relevant entity below:
Cookie Declaration
Consent
Strictly necessary cookies do not require your consent.
For performance, functionality, targeting and social media cookies, we request your consent before placing them on your device. You can give your consent by continuing to use our Website, or by clicking on the appropriate button on the banner displayed to you, or by going to the Cookie Preference Center. If you do not wish to give consent or wish to withdraw your consent to any performance, functionality, targeting or social media cookies at any time, you will need to delete, and block or disable cookies via your browser settings; see below for more information on how to do this or by changing your settings in the Cookie Preference Center. Please note that disabling these cookies will affect the functionality of the Website and may prevent you from being able to access certain features on the Website.
How can you change your cookie settings?
You can make changes to your cookie preferences with the Company by using the Cookie Preference Center button located at the bottom of the page at any time. You can also block cookies by activating the setting on your browser that allows you to refuse the setting of all or some cookies. However, if you use your browser settings to block all cookies (including strictly necessary cookies), you may not be able to access all or parts of our Website.
Cookie Preference Center
Cookie settings can be found in the 'Show Details' menu of the "Cookie Settings" button: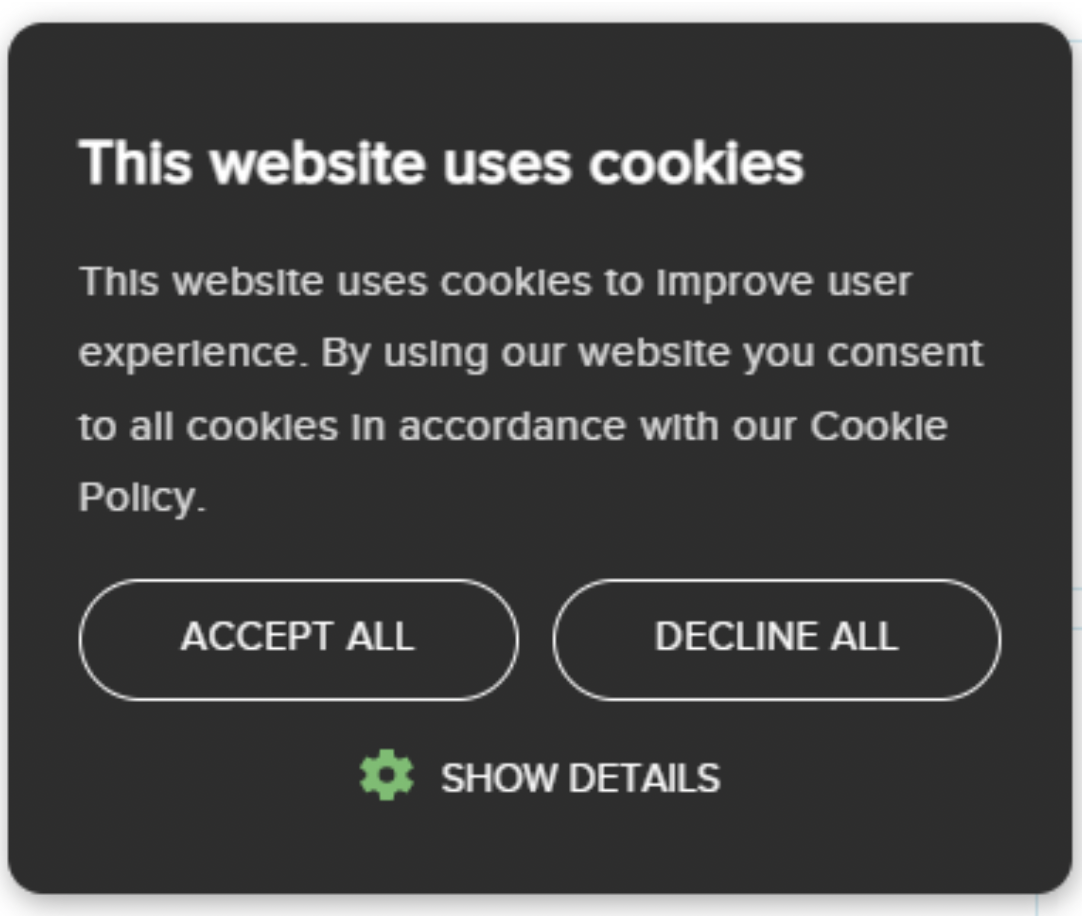 Opting Out
You can alter the configuration of your browser to reject certain types of cookies. Please note that if you delete, or choose not to accept, cookies from the Website, you may not be able to utilize certain features of the Website to their fullest potential.
You may also set your browser to send a Do Not Track (DNT) signal. Please note that our Website does not have the capability to respond to "Do Not Track" signals received from web browsers.
To opt out of being tracked by Google Analytics across all Websites you can download the Google Analytics Opt-Out Browser Addon from:
https://tools.google.com/dlpage/gaoptout
Please note that internet browsers allow you to change your cookie settings. These settings are usually found in the "options" or "preferences" menu of your internet browser. In order to understand these settings, the following links may be helpful. Otherwise you should use the "Help" option in your internet browser for more details.
Further Information
To find out more about cookies and how to manage and delete them, visit https://www.aboutcookies.org or https://www.allaboutcookies.org
Contact Us
If you have any questions or comments about this policy, or if you would like to know more about how the Company uses cookies, please contact [email protected] or contact us by postal mail at:
Idera Inc.
Attn: Legal Department
10801 N Mopac Expressway
Building 1, Suite 100
Austin, TX, 78759

Please allow us up to four weeks to reply.
Idera, Inc. Cookie Policy
V. 053023